Nicolas Maunoir lands his first ProSeries win on home turf!
King of Europe Round 5 Lignieres, Swiss


As the smoke settles over an incredible weekend here in Lignieres, Switzerland alongside the Swiss Drift Association for Round 5 of the Federal Tyres King of Europe Pro Series, some of the biggest upsets and best battles of the season so far have put on a spectacle for the thousands of fans who witnessed the action go down with an incredible 80-driver line-up from across Europe.
After unpleasant weather conditions for the start of training early Saturday, the sun soon graced the drivers with grippy asphalt on the tight and technical circuit as they perfected their best lines which the judges had requested earlier in the day.
After the morning of practice, the drivers set out to prove to the judges they had mastered the layout as they fought it out for vital qualification points in front of the huge crowd which had filled the circuit to witness the action.
It would yet again be Johannes Hountondji who landed the top spot, as the series leader continues his incredible push for the Championship. Whilst scoring 98.26 points, he also achieved the highest attack speed of the day with 98.28km/h.
Nicolas Maunoir flew the flag high for Swiss as he took second place with 95.47 points, also taking the highest average angle of the day.
Third place would go to his French teammate, Benjamin Boulbes with Rick Van Goethem taking fourth place.
The Pro2 series would feature an all-French Top 3 with Mike Kauffmann landing the top spot, Axel Francois in second and Benoit Vavasseur in third. Pavlin Penev took fourth place as he hoped to end his streak of bad luck this season as he attempts to fight for a podium spot.
In the Queen of Europe series, Denise Ritzmann comes out on top with Michaela Sacherova in second and Tessa Whittock in third.
In the King of Italy series, Gianluca Lazzaroni took first place with Alberto Cona in second and Manuel Vacca in third.
With the sun once again shining, the spectators lined up around the track on the Sunday to witness the Top 32 battles go down.
After getting a pass through to the Top 16, it was all eyes on top qualifier and series leader Joe Hountondji as he attacked the first corner with his usual speed and precision against Benno Frieden. Much to the shock of everyone watching, a very rare mistake saw him drop two wheels to give a 10-0 advantage to Frieden. Despite managing to pull back a 7-3 advantage in his chase run, it was unfortunately not enough for him to make the Top 8.
Rick Van Goethem, who occupied 2nd place in the overall rankings faced Manuel Vacca in his Top 16 battle. With everyone watching also expecting also him to advance, it would be another huge upset as an in-form Vacca paved his way to the Top 8!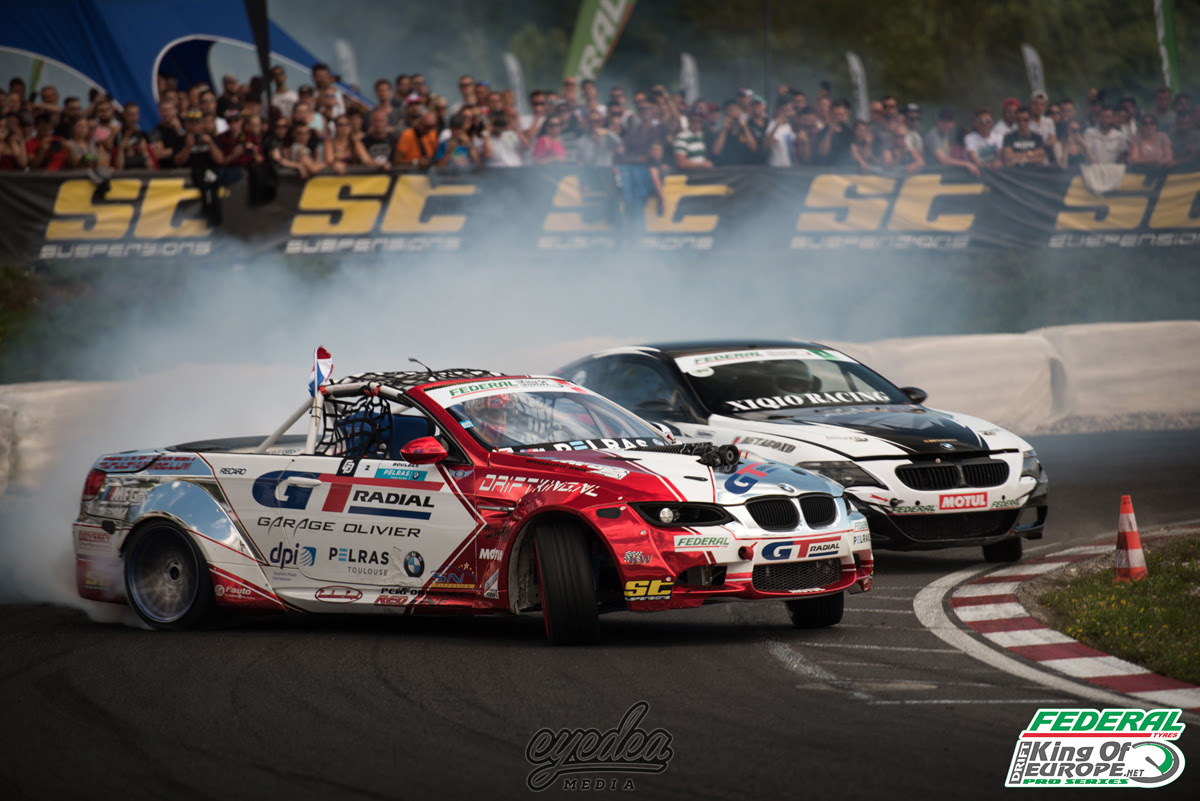 Despite taking the third place qualification spot, a great chase run from 2015 Champion Norbert Kovacik also gave him a pass.
An intense Top 8 saw a one-more-time battle between Eli Hountondji and Manuel Vacca before Vacca took a 6-4 advantage in the OMT to face Benno Frieden in the Top 4.
After knocking out Nicolas Dufour and Gerson Juninger, Swiss driver Nicolas Maunoir was determined to defeat ex-Champion Kovacik in his semi-final battle in front of the home crowd. After taking a 6-4 advantage on the lead run, the 5-5 chase run was all he needed to land the spot in his first ever King of Europe final!
As Frieden and Vacca fought it out for the remaining final spot, it would be Vacca who grabbed the opportunity as Frieden went up against Kovacik in the small final.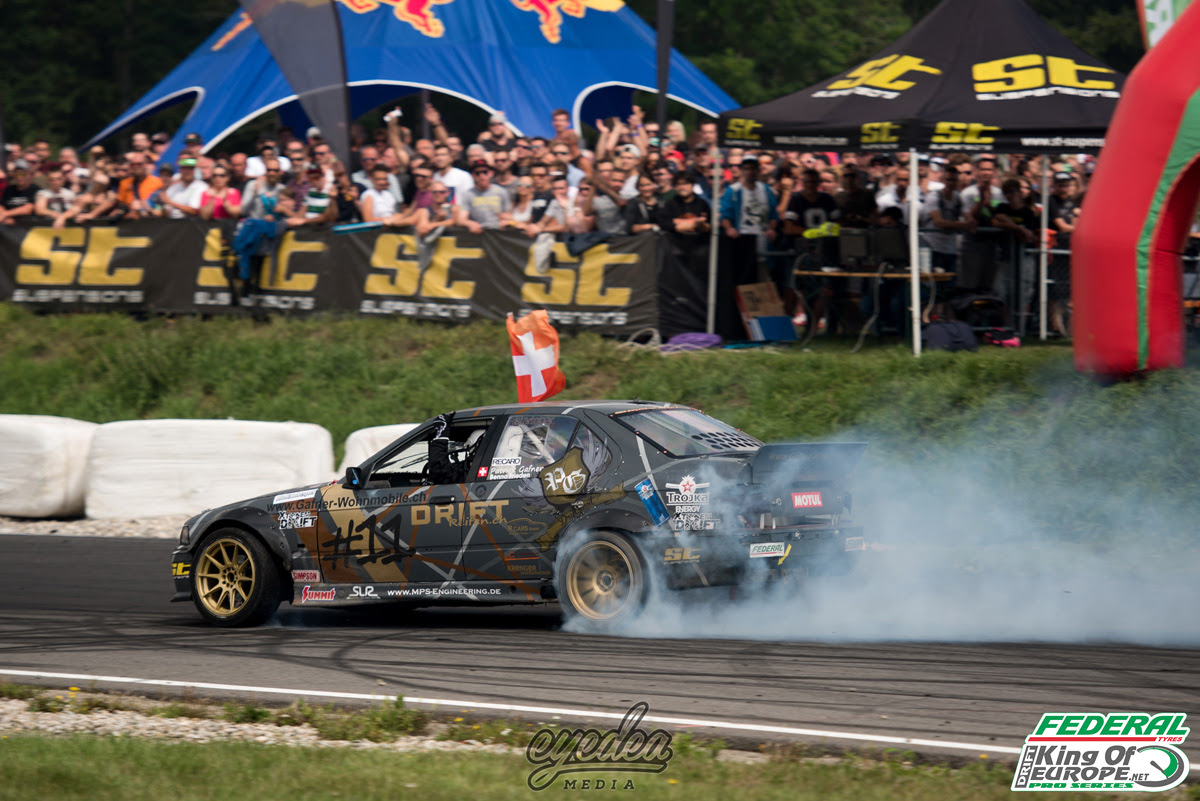 With the home fans once again roaring for their hero, Frieden gave his best efforts in the small final but couldn't match Kovacik as he once again returned to the ProSeries podium.
In a final which no-one had anticipated, Maunoir and Vacca lined up on the start-line to prove just how open the competition still is. As Maunoir took the opening lead run, a 6-4 advantage was awarded in his favour. Despite Vacca's best efforts, Maunoir was not willing to slip up on home turf as he once again achieved a 6-4 score from the judges, landing him his first ever King of Europe win!
In the Pro2 series, Kauffmann was defeated by former Champion Pavlin Penev in their Top 4 battle, whilst Vavasseur was held by Francois after a one-more time battle to land their spots in the small final. Despite Kauffmann taking the 6-4 advantage, another stunning chase run from Vavasseur handed him the third place spot on the podium!
As Francois went up against Penev, a mistake from Francois gave a 10-0 advantage to Penev, despite giving his all in the chase run to achieve an 8-2 advantage, it wasn't enough as Penev once again landed the top spot.
In the Queen of Europe series, car issues for series leader Karolina Pilarczyk led to an unfortunate early end to her weekend. UK driver Tessa Whittock secured her place in the final after defeating Michaela Sacherova in a one-more-time battle as Denise Ritzmann ended Sandra Junginger's weekend.
Michaela Sacherova made no mistakes to take the third place position whilst a 6-4, 5-5 advantage meant that the top spot was handed to Denise Ritzmann after a great final with Tessa Whittock taking second place.
Massimo Checchin claimed his second consecutive podium in the King of Italy series, this time managing to land the coveted top spot! Landing second place would mean another podium this weekend for Manuel Vacca whilst Alberto Cona took third.
Official Video
Next up is the Federal Tyres King of Touge series on 2nd/3rd September in Les 7 Laux, France with the King of Europe series continuing with Round 6 just one week later in Oschersleben, Germany! Expect to once again witness some huge upsets, incredible driving and door-to-door battles at both rounds!